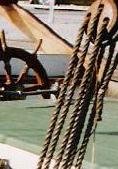 D ata of the ship
---

Reg nr 3734, Signal SHTR


Lenght in deck 17.8 m
width 5.8 m
Gross register tons 47
Built in year 1900 at Landskrona Nya varv (later renamed
Gustafssons varv).

Jakt hull rigged as a galeas. Engine Bolinder-
Munktell 55 hkr
Hull with pine planking on oak framing. Painted with Stockholm tar , linseed oil och chimney black. Sails in flax canvas. Captains cabin in the aft with room for two persons, empty cargo space situated amidships and
in the front a small forcastle for 2 crewmembers.

Extensive repair of hull and deck carried out during
winters of 1993-94 och 1997-98 in the Beckholmen docks. Government economic support at both these occations.

Emma's home is at Strandvägen quay in central Stockholm.

Owners: Måns and Elisabeth Flensburg,
Stockholm

Previous owners during her time in trade:
1900-1904 C.O. Johansson, Bäckviken, Ven
1904-1928 John Eliasson, Särdal, Halmstad.
1928-1942 A.E.Berndtsson, Kivik. Cargo mostly potatoes and grains. In the beginning of 2nd world war Emma was used as a protection of Simrishamn harbour. She was anchored in the entrance of the harbour, loaded with stone and dynamite. After that she was extensively repaired by the Navy and finally became the last sailing ship registered at Kivik.
1942-1947 Erik Sigvard Albin Pettersson, Mönsterås. Erik and his brother were both partowners and skippers on Emma. In the summer Emma transported timber and wooden constructions for small villas on the Swedish island Gotland in the Baltic sea. In the autumn the shiploads were grains for Kalmar and rape to Karlshamn, both nearby harbours. The farthest trips were to Uppsala, situated north of Stockholm and partly reached by river and lakes.
1947-1947 Sture Harry Carlsson, Kolboda (4 months only)
1947-1954 Einar Erik Alfred Eriksson, Färjestaden, on Öland
1954-1960 Edvin Johansson, Stenninge, Sandvik, also on the island Öland. Emma was owned in part by the local limestone factory and her cargo was limestone to the mainland.
1960-end oftime in trade